Parliament rise till Tuesday, 10th November 2020 at 2:00 pm
Hon. Garry Juffa, MP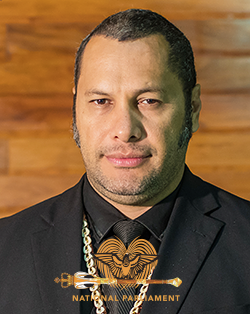 Electorate
Northern Provincial
Party
People's Movement for Change Party (PMC)
Parliamentary Services
Current: Re-elected to the 10th National Parliament for the Northern Provincial seat as a Peoples Movement for Change Party Candidate in the 2017 General Elections, appointed Chairman to the Public Sector Reforms & Service Delivery Special and Deputy Chairman to the Public Accounts, Member to the Appointments, Foreign Affairs & Defence and Emergency Parliamentary Committees in the Marape-Steven Government, left the Pruaitch led Opposition and joined the Marape-Steven Government on 27th August 2019, 2nd Term in this Parliament.
Past: First elected to the 9th National Parliament for the Northern Provincial seat in the 2012 General Elections as a People's Movement for Change Party candidate. Appointed member of the Plans and Estimates Committee and Public Accounts Committee in August 2012.
Biography
Last Occupation Prior to Elections: Commissioner for PNG Customs.
Contact Details
Parliament Office
C/-National Parliament, PO Parliament House, WAIGANI, NCD 131, Papua New Guinea

Ph: +675 3277266/621
Fax: +6753277480

Copyright 2020 National Parliament of Papua New Guinea