Parliament adjourned to Tuesday, 12th October 2021 at 02:00 p.m.
Hon. Charlie Benjamin, MP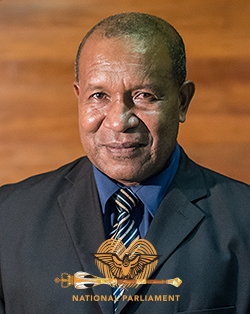 Electorate
Manus Provincial
Party
Papua & Nuigini Union Pati (PANGU)
Parliamentary Services
Current: Re-elected to the 10th National Parliament for the Manus Provincial seat as a Peoples National Congress Party Candidate in the 2017 General Elections. Resigned from PNC Party on 29/04/2019 and currently affiliated with the PANGU Pati. Appointed Chairman of the Privileges and a Member of the Culture and Tourism, Emergency, Plans and Estimates, Private Business and Public Accounts Parliamentary Committees since June 2019 to current, 3rd term in this Parliament.
Past: First Elected to 6th National Parliament in the 1997 General Elections for the Manus Open seat. Served as Shadow Minister for Forest from July 1997 till June 1998, then briefly as member of the Broadcasting of Parliamentary Proceedings Committee. Appointed Vice Minister for Public Enterprises from July 1998 till July 1999. Joined the Advance PNG Party in June 1999. Member of the Privileges Committee and Chairman of the Public Service and Public Sector Reform Committee from November 1999 to April 2000. Appointed Minister for Labour and Employment in the Morauta led government on the 18/4/00 then Minister for Lands and Physical Planning on the 17/05/01 after a cabinet reshuffle. Member of PDM on its merging with APP on the 29/04/01. Announced his withdrawal from the PDM and the revival of the APP on the 16/8/2001 with him as Leader of Advance Papua New Guinea Party. Re-elected to the 7th National Parliament in the 2002 General Elections for the same seat as an Advance Papua New Guinea Party candidate, then joined the People's National Congress in November 2003 following amalgamation of APP with PNC. Appointed Shadow Minister for Lands and Physical Planning in the Morauta led opposition in February 2004. Served on the Culture and Tourism Committee, Economics Committee and Public Works Committee between 2002 and 2007. Recommended to be dismissed from parliament by leadership tribunal on the 15/01/2007. Re-elected to the 9th National Parliament for the Manus Provincial seat in the 2012 National Elections as a People's National Congress Party candidate. Appointed member of the Pensions and Retirement Benefits Committee in August 2012.
Biography
Contact Details
Parliament Office
C/-National Parliament, PO Parliament House, WAIGANI, NCD 131, Papua New Guinea

Ph: +675 3277722
Fax: +675 3277480

Copyright 2021 National Parliament of Papua New Guinea