Parliament adjourned to Tuesday, 12th October 2021 at 02:00 p.m.
Hon. Peter Charles Yama, MP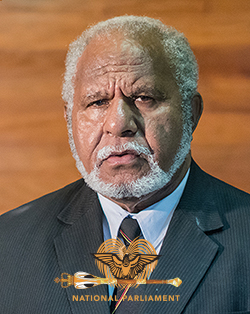 Electorate
Madang Provincial
Party
People's Labour Party
Parliamentary Services
Current: Re-elected to 10th National Parliament in the 2017 National General Election 2017 for Madang Provincial seat under the People's Labour Party. Party Leader of the People's Labour Party. Appointed as a member of the Appointments, Legislation and Standing Orders Parliamentary Committees, 3rd term in this parliament.
Past: First elected to the 5th National Parliament for the Sumkar Open seat in a by-election in October 1992 following the death of previous member Galen Lang in August 1992. Served as Minister for Works from September 1994, then Minister for Transport and Works in August 1995. Launched the People's Labour Party on the 28/04/2001 at the Laiwaden Oval, Madang in preparation for the 2002 general elections. Re-elected to the 7th National Parliament in the 2002 General Elections for the Usino-Bundi Open seat. Commissioned Minister for Labour and Industrial Relations in the Somare/Marat cabinet on the 2/8/2003, till decommissioning as minister of state on the 12/11/2003. Recommended for dismissal from parliament by Leadership Tribunal on charges of misconduct in office on the 1/12/2004. Dismissal overturned by National Court on the 4/2/2005. Appointed member of Pensions and Retirement Benefits Committee, and Foreign Affairs and Defence Committee-Chair in May 2006.
Biography
Primary Education: Completed Primary Education ,Grade 6 in 1971 from Laiagam Primary School.
Secondary Education: Completed High School Education, Grade 10 through the College of External Studies.
Achievements: In May 1984, Mr. Yama incorporated Yama Security Services and has since then expanded his business interests to include the hotel industry, shipping, coffee processing and real estate.

Contact Details
Parliament Office
C/-National Parliament, PO Parliament House, WAIGANI, NCD 131, Waigani, Papua New Guinea

Ph: +675 3277664/665
Fax: +675 3277480

Copyright 2021 National Parliament of Papua New Guinea