Parliament adjourned to Tuesday, 12th October 2021 at 02:00 p.m.
Hon. Sir Peter Ipatas, GCL, KBE, MP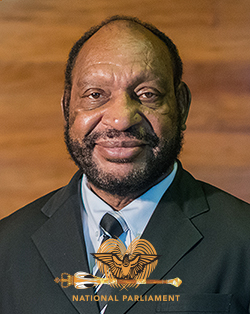 Electorate
Enga Provincial
Party
People's Party (PP)
Parliamentary Services
Current: Re-elected to the 10th National Parliament in the 2017 National General Election as the Governor for the Enga Provincial under the People's Party, Chairman of the Constitutional Laws and Acts and Subordinate Legislation; a member of the Foreign affairs and Defence; Plans and Estimates; Pensions and Retirement Benefits and Public Sector Reforms & Service Delivery Parliamentary Committees, 5th term in this Parliament.
Past: First elected the 6th National Parliament in the 1997 General Elections for Enga Provincial seat. Member of the Broadcasting of Parliamentary Proceedings Committee (July 1997-March 1998). Member of Finance Referral Committee (July 1997-July 1998). Quit the United Resource Party to join ranks with the PDM on 26/04/01. Governor for Enga Province from July 1997 until the withdrawn of Enga Provincial Government Powers in February 2001. Also served in the Public Works Committee (November 1999-May 2001), and the Select Committee on Independent Commission Against Corruption in April 1998. Appointed Minister for Mining in the Morauta government (17/5/2001 to 19/10/2001) when relinquished ministerial duties to resume as Governor for Enga Province when the suspension of the Enga Provincial government was lifted. Re-elected to the 7th National Parliament for the same seat in the 2002 General Elections as a People's Democratic Movement Candidate, then joined Papua New Guinea Party when party name changed from PDM in November 2003. Announced his resignation from the PNG Party to form his own party on the 1/3/2006. Formed and subsequently made first Parliamentary Leader of People's Party in May 2007 before the 2007 General Elections. Re-elected to the 8th National Parliament in the 2007 General Elections for the same seat as a People's Party candidate. Re-elected to the 9th National Parliament in the 2012 General Elections for the same seat under same party.
Biography
Religion: Christian- Lutheran
Primary Education: Completed Primary Education from Irelya Lutheran Primary School, Gr 1-6,1965-1970
Secondary Education: Completed High/Secondary Education from St Paul's (Pausa) Lutheran High School, Gr 7-10,1971-1974
Tertiary Education: Completed Matriculation and Science Foundation, University of Papua New Guinea, 1975-1976

Achievements: Queens Birthday honours list 2015 - awarded Order of the British Empire (KBE) for services to the community in the fields of health, education and vocational training. A Successful Businessman, Patron for Enga Mioks and Coca Cola Ipatas Cup (Rugby League), Won four National General Elections, LLG Ward Councillor
Community Interests: Leader of Taiyo Tribe, Business Leader, Father of Free Education Policy, Promote Law & Order, Support children in education and local business.
Last Occupation Prior to Elections: Council President in Enga Province
Contact Details
Parliament Office
C/-National Parliament, PO Parliament House, WAIGANI, Papua New Guinea

Ph: +675 3277516
Fax: +675 3277480
pipatas@gmail.com
Electorate Office
Enga Provincial Government Office, Ipatas Centre, Wabag

Telephone: 5471166/1050
Fax: 5471279/1004
Email: pipatas@gmail.com
Copyright 2021 National Parliament of Papua New Guinea