Parliament adjourned to Tuesday, 12th October 2021 at 02:00 p.m.
Hon. Peter Numu, MP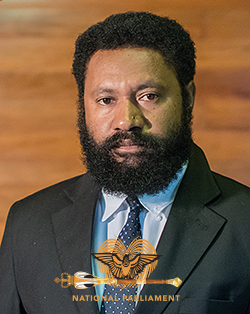 Electorate
Eastern Highlands Provincial
Party
PNG One Nation Party (Party Leader)
Votes Received
157,000 plus (Absolute Majority)
Parliamentary Services
Current: First elected to the 10th National Parliament in the 2017 General Elections as a PNG One National Party candidate for the Eastern Highland Province, Party Leader of the PNG One National Party. A member of the Culture & Tourism; Legislation; Public Accounts; Public Works and Public Sector Reforms & Service Delivery Parliamentary Committees, joined the Government bench on 19/02/2020, 1st term in this Parliament.
Biography
Religion: Christianity- Four Square Church
Primary Education: Completed Primary Education, Grade 1-6 from Muglamp Community School
Secondary Education: Completed Secondary Education, Grade 7-10, from Togoba High School, then Grade 11-12, Fatima Secondary School
Tertiary Education: Completed Tertiary Education in Bachelor of Arts (Political Science), Bachelor of Law, University of Papua New Guinea

Achievements: Earned both Bachelor of Arts in Political Science and Law from the University of Papua New Guinea.
Last Occupation Prior to Elections: Ligitation Officer with Arros & Co. Lawyers 2015-2017
Contact Details
Parliament Office
C/-National Parliament, PO Parliament House WAIGANI, Papua New Guinea

Ph: +675 3277207
Fax: +675 3277480
unumu4@gmail.com
Copyright 2021 National Parliament of Papua New Guinea