Special Parliament Sitting on Thursday 11th, March 2021 at 10:00 a.m.
Hon. Nakikus Konga, MP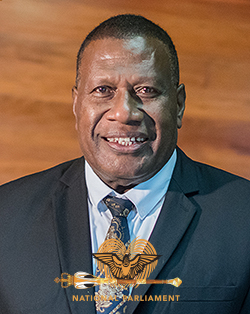 Electorate
East New Britain Provincial
Party
People's Progress Party (PPP)
Parliamentary Services
Current: Re-elected to the 10th National Parliament for the East New Britain Provincial as a Peoples Progress Party Candidate in the 2017 General Elections. Governor for East New Britain Province, appointed Deputy Chairman of the Broadcasting of Parliamentary Proceedings, Member of the Emergency and Pensions and Retirement Benefits Parliamentary Committees under the Marape-Steven Government in June 2019, 3rd Term in this Parliament.
Past: First elected to 5th National Parliament in the 1992 General Elections. Appointed Minister for Home affairs September 1994 to August 1995. Minister for Commerce and Industry from August 1994 to July 1997. Re-elected to 6th National Parliament in the 1997 General Elections. Re-appointed Minister for Commerce and Industry after formation of Government in July 1997 till December 1997. Defected from Pangu Pati to Papua New Guinea First Party in July 1998. Member of the Broadcasting of Parliamentary Proceedings Committee from November 1999-March 2000. Resigned from parliament on the 31/03/2000.
Biography
Primary Education: Completed Primary Education from Lunga Lunga Primary School, MCR, Rabaul, ENB
Secondary Education: Completed Secondary Education from Keravat Secondary School, Rabaul, ENB
Tertiary Education: Completed Tertiary Education from Wagga Wagga Agricultural College, NSW, Australia

Achievements: Obtained a Diploma in Agriculture from Wagga Wagga Agricultural College, NSW, Australia
Last Occupation Prior to Elections: Business man (Shipping, Planatations and Shops), Director to the Business Arm of ENBPG, Chairman of Latauanapo Dev. Corp LTD
Contact Details
Parliament Office
C/-National Parliament, PO Parliament House, WAIGANI, NCD 131, Papua New Guinea

Ph: +675 3277565
Fax: +675 3277480
NA
Copyright 2021 National Parliament of Papua New Guinea