Parliament adjourned to Tuesday, 12th October 2021 at 02:00 p.m.
Hon. Titus Philemon, MP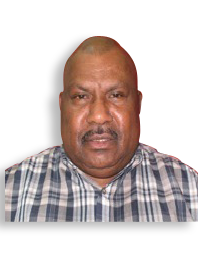 Ministerial Portfolio
Governor
Electorate
Milne Bay
Party
People's Progress (P.P)
Date of Election
21 July 2012
Votes Received
42,749
Contact Details
Parliament Office
National Parliament P O Parliament House WAIGANI N.C.D Papua New Guinea

Telephone: 3277271
Fax: 3277723
Email: milnebaygovernor@gmail.com
Electorate Office
P O Box 104, Alotau, Milne Bay Province

Telephone: 6411256/6410565/73252098
Fax: 6411185
Email: abby.yadi@milnebay.gov.pg
Connect with Philemon


Party Website
Parliamentary Services
Current: Governor for Milne Bay, Member of Permanent Parliamentary Culture & Tourism Committee and Referral Parliamentary Transport and Civil Aviation Committee
Past: First elected to 5th National Parliament for Samarai-Murua Open seat in the 1992 General Elections. Appointed Under-Secretary for Finance and Planning in July 1992 after formation of Government. Appointed Parliamentary Secretary for Foreign Affairs and Trade in January 1994, then as Minister for Fisheries and Marine Resources from September 1994-July 1997. Re-elected to 6th National Parliament for same seat in the 1997 General Elections. Appointed Vice Minister for Foreign Affairs following formation of Government from July-December 1997, then appointed Minister for Family and Churches from December 1997 till July 1998. Named Minister for Women, Churches and NGOs in July till October 1998. Chairman of the Tourism Promotion Authority Board from October 1999 to January 2000. Voted in Governor for Milne Bay Province on the 12/1/00 following a successful vote of no confidence on incumbent Dame Josephine Abaijah. Governorship denied by National Court ruling on the 14/02/00. Returned as governor in a second vote of no confidence on the 6/07/00. Appointed to the Governors Committee representing the Papua region by NEC in July 2001, and Constitutional Laws and Acts and Subordinate Legislation Committee, and Public Accounts Committee, in November 1999. Culture and Tourism Committee-Chair from November 1999 to December 2000, Provincial and Local Government Reforms Committee and Provincial and Local Government Reforms Committee in June 2000.Re-elected to the 9th National Parliament for the Milne Bay Provincial seat in the 2012 General Elections as a People`s Progress Party candidate. Appointed member of the Culture and Tourism Committee in August 2012.
Biography
Religion: Christianity- United Church
Primary Education: Grade 1-6, Loaga Community School, Misima Island, Milne Bay, 1967-1972
Secondary Education: Grade 7-8, Wesley High School, Milne Bay, 1973-1974
Tertiary Education: Grade 9-10, Graphic Arts, Port Moresby Technical College, Port Moresby, 1975-76

Achievements: 1987: Member for Rossel Island in the Milne Bay Provincial Assembly which he also served as Minister for Health, Deputy Opposition Leader and Deputy Premier in Milne Bay
Community Interests: Health and Education for under privileged kids
Last Occupation Prior to Elections: First Secretary to the Governor for New Ireland, the Rt Hon. Sir Julius Chan. GCMG, KBE, MP
Copyright 2021 National Parliament of Papua New Guinea