Parliament adjourned to Tuesday, 12th October 2021 at 02:00 p.m.
Hon. Michael Somare, MP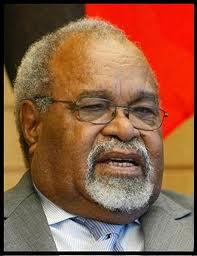 Ministerial Portfolio
Governor
Electorate
East Sepik
Party
National Alliance (N.A)
Date of Election
21 July 2013
Votes Received
93,815
Contact Details
Parliament Office
National Parliament P O Parliament House WAIGANI, N.C.D Papua New Guinea

Telephone: 3277756
Fax:
Email:
Electorate Office


Telephone:
Fax:
Email:
Connect with Somare


Party Website
Parliamentary Services
Current: Member of Parliament for East Sepik Provincial, Member of Privileges Permanent Committee and Member of Foreign Affairs & Trade Referral Committee.
Past: First elected to 2nd House of Assembly for East Sepik Regional seat in the 1968 General Elections. Elected Parliamentary Leader of Pangu Pati. Re-elected to the 3rd House of Assembly/1st National Parliament in the 1972 General Elections for the same seat. Elected Chief Minister of self-governing Territory of Papua and New Guinea. Sworn in as 1st Prime Minister of the Independent State of PNG in September 1975. Re-elected to 2nd National Parliament for the same seat in the 1977 General Elections and re-elected Prime Minister. Appointed member of Her Majesty's Privy Council. Became Leader of Opposition in March 1980 following a vote of no confidence. Re-elected to the 3rd National Parliament in the 1982 General Elections for the same seat and re-elected Prime Minister. Elected Leader of Opposition in November 1985 following another vote of no confidence. Re-elected to 4th National Parliament in the 1987 General Elections and became Leader of Opposition. Resigned as Leader of Opposition and Pangu Pati in June 1988. Appointed Minister for Foreign Affairs in July 1988.Re-elected to the 5th National Parliament in the 1992 General Elections. Appointed Leader of Opposition and Leader of Pangu Pati in August. Relinquished Pangu Pati leadership to Mr. Chris Haiveta in August 1993. Foundation Governor for East Sepik Province from 1995 to 1997. Founded the National Alliance in 1997 - later renamed the People's National Alliance, then National Alliance Party - and subsequently made Leader of National Alliance Party since the party's inception. Re-elected to 6th National Parliament in the 1997 General Elections. Governor for East Sepik Province from July 1997 till July 1999. Appointed member of Private Business Committee July 1997-July 1999 and Pensions and Retirement Benefits Committee-Deputy Chairman, March-July 1999. Minister for Foreign Affairs following the formation of the Morauta government in July 1999, then Minister for Mining and Bougainville Affairs in December 1999, before returning as Minister for Foreign and Bougainville Affairs in November 2000 in another cabinet reshuffle. Decommission as a minister in the Morauta government on the 19/12/2000. Assumed role of Leader of Opposition upon the resignation of then opposition leader Bill Skate, on the 26/11/2001. Re-elected to the 7th National Parliament in the 2002 General Elections for the same seat. Elected Prime Minister on the 5/8/2002. Minister for State Enterprises, Communication and Information from 20/12/2004 till July 2006. Minister for Foreign Affairs and Immigration from 7/7/2006. Awarded the Honorary Companion of Fiji in August 2005, and Grand Companion of the Order of Logohu (GCL) in September 2005. Minister for Internal Affairs from the 6/10/2006 to 13/10/2006 (G193 and 196 of 2006). Re-elected to the 8th National Parliament in the 2007 General Elections for the same seat as a National Alliance Party candidate and subsequently re-elected Prime Minister on the 13/08/2007. Takes added responsibilities as Minister for Autonomy and Autonomous Regions on the 29/8/2007 and as Minister for Transport and Civil Aviation on the 14/8/2009. Replaced as Prime Minister by Peter O'Neill on the 2/8/2011. Removed as member of parliament on 9/12/2011. Reinstated member of parliament and Prime Minister by supreme court on 12/12/2011.
Biography
Religion: Christian- Catholic.
Primary Education: Attended school during World War II from 1942 to 1944 and in 1946 went to Boram Primary School
Secondary Education: Attended Dregerhafen Education Center and Sogeri High School, where he graduated with a Victorian Leaving Certificate in 1957
Tertiary Education:

Achievements: In 1976, Sir Michael received an Honorary Doctorate of Humanities from the University of the Philippines and was appointed member of Her Majesty's Privy Council in 1977 following his re-election as Prime Minister. He was awarded an Honorary Doctorate of Law from the Australian National University (ANU) in 1979, and was made Member of the Order of the Companion of Honour by the Queen in Her Birthday Honours List of 1979. He was awarded an Honorary Doctorate by the University of Technology in Lae in 1982 and appointed a Member of the Knightly Association of St. George and Martyr in 1984. In 1986, he received an Honorary Doctor of Laws by the University of Papua New Guinea. Sir Michael was made a Knight Grand Cross of the Order of St. Michael and St. George (GCMG) by the Queen in the Birthday Honour List of 1990. Awarded the Knight of the Order of Saint John (K.St.J.) in August 2004.
Community Interests:
Last Occupation Prior to Elections:
Copyright 2021 National Parliament of Papua New Guinea