Parliament adjourned to Tuesday, 12th October 2021 at 02:00 p.m.
Hon. Leo Dion, MP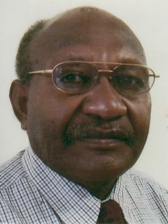 Ministerial Portfolio
Deputy Prime Minister and Inter-Government Relations Minister
Electorate
East New Britain Provincial
Party
People's National Congress (PNC)
Date of Election
25 July 2012
Votes Received
35,195
Contact Details
Parliament Office
National Parliament P O Parliament House WAIGANI, N.C.D Papua New Guinea

Telephone: 3277680/559
Fax:
Email:
Electorate Office


Telephone:
Fax:
Email:
Connect with Dion


Party Website
Parliamentary Services
Current: Deputy Prime Minister and Minister for Inter-Government Relations
Past: First elected to the 6th National Parliament for the East New Britain Provincial seat in a by-election in December 2000 following the resignation of seating member Mr. Francis Koimanrea to run for the Pomio Open seat. Governor for East New Britain Province 2000-2012. Appointed Plans and Estimates Committee-Deputy Chair in December 2000. Re-elected to the 7th National Parliament in the 2002 General Elections for the same seat. Awarded the Companion of the Most Distinguished Order of Saint Michael and Saint George (CMG) in June 2005 for public and political service. Served on the Law and Order Committee between 2002 and 2007. Re-elected to the 8th National Parliament in the 2007 General Elections for the same seat as a National Alliance Party candidate. Appointed Parliamentary Referral Committee on Foreign Affairs and Trade-Deputy Chair on the 18/09/2007.
Biography
Religion:
Primary Education:
Secondary Education:
Tertiary Education:

Achievements: Awarded the Queen's Police Medal (QPM) during as a policeman.
Community Interests:
Last Occupation Prior to Elections: Deputy Governor of East New Britain Province
Copyright 2021 National Parliament of Papua New Guinea