WELCOME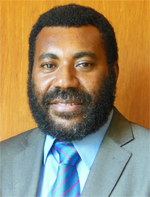 Access to parliament information is an important pre-requisite to empower our people; generating interest among our citizenry, promotes transparency, accountability and best parliamentary legislative practices. This website allows greater community access to the workings of your Parliament so that you can be fully engaged and strengthen the institution that serves our nation.
I invite you to browse this website. Discover information about our parliamentary process; contact your local member of parliament, who acts as your representative; access current Acts, parliamentary sitting calendar, profiles of your MPs and the work of Parliamentary Committees.
Hansard records of the complete proceedings and debates from the 9th Parliament and past proceedings, can also be accessed. The records of attendance, votings, statements made and questions and discussions made in the chamber are available.
As well as the online information, you can access parliament information on your mobile phone via SMS which is an historical achievement. I invite you to come and visit the Papua New Guinea Parliament in person. This is your house!
You will be amazed to see the magnificent building; join a public tour, and learn about the true role of parliament as law making house, peoples representative and accountability agent that gives our nation its identity, sovereignty and destiny.
Hon. Theo Zurenouc, MP
Speaker of Parliament